Eyes on the Street: Alameda Point Development First in Bay Area to Do Bike Lanes Right
Nestled on the extreme western end of Alameda, bikewise the new development is like something transported from Europe
This post was written by Roger Rudick and published on 6/27/2023 on sf.streetsblog.org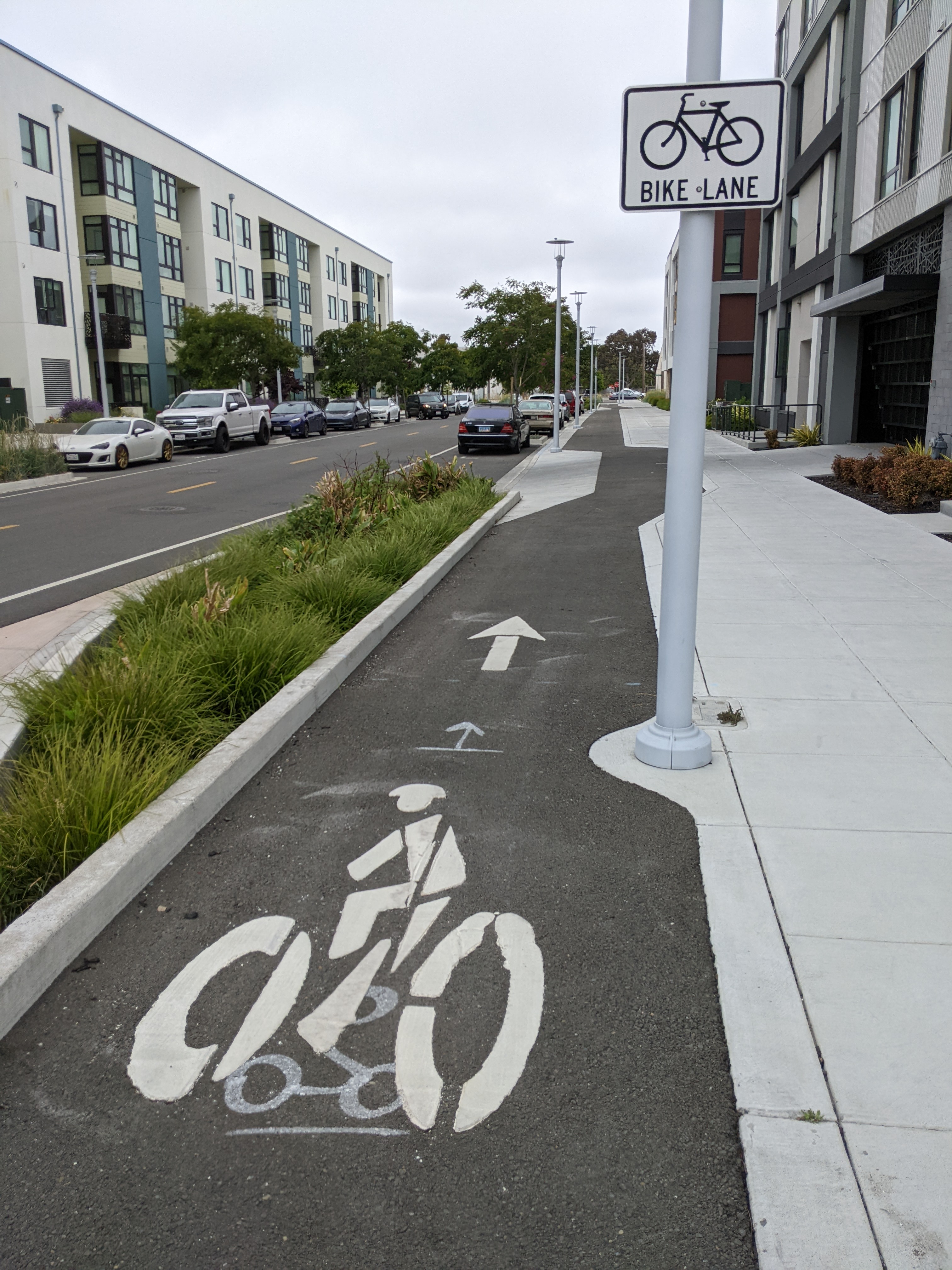 Part of a network of sidewalk level bike lanes that connect the ferry to new housing in western Alameda. Photos: Streetsblog/Rudick
Streetsblog's post last week about the new sidewalk-level bike lane in Oakland listed comparable facilities in Redwood City and Fremont and asked readers to mention any others that might have been missed. The City of Alameda's Brian McGuire pointed out a BIG one: the Point development in Western Alameda.
The Point is a new housing development located on the former Navy base at the western end of Alameda island, along Atlantic Avenue. The units are all an easy bike ride from the Alameda Seaplane Lagoon Ferry Terminal.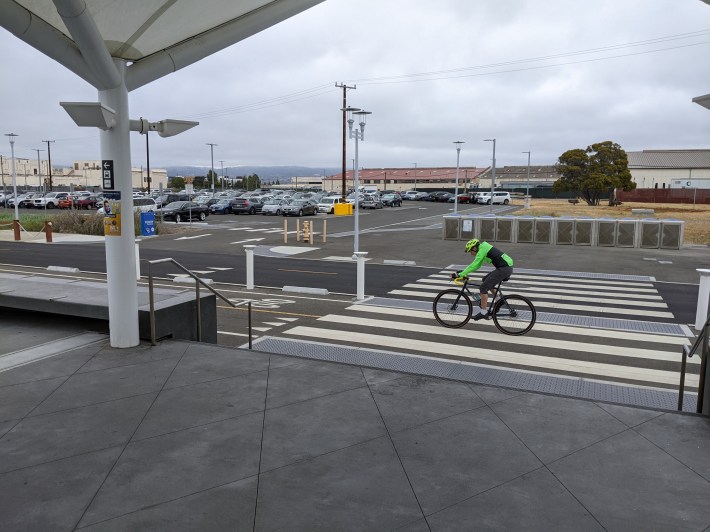 The San Francisco Chronicle's urban design critic John King wrote a great piece about the initial development and its connection to the ferry. "I don't think I would have done this deal without knowing the ferry would be there," he was told by Michael Sorochinsky of Cypress Equity, which put the development deal together. "Connectivity is so important."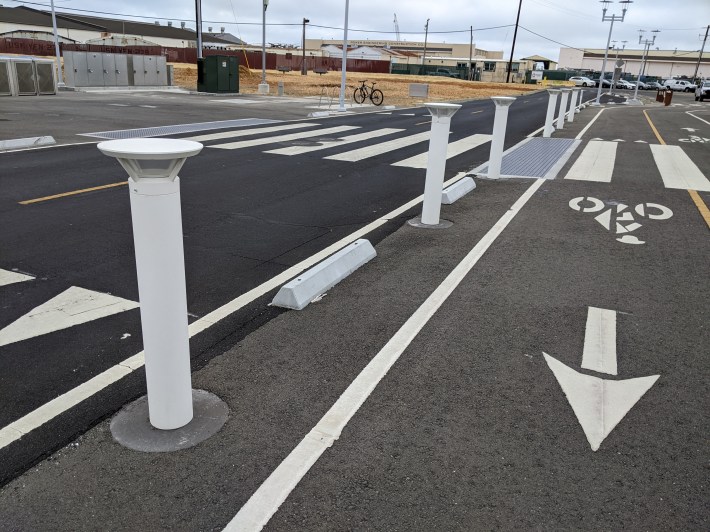 That kind of commitment to non-car-based connectivity is great to read about. But it's too easy to be jaded after hearing and reading many insincere equity pledges and statements like "we can't continue to depend on cars" without any action backing them up. Just think of the Brooklyn Basin development in Oakland: sold as a "green" development project, it's underpinned by giant parking structures. And despite its proximity to BART, the only real bike lane is a short path that leads nowhere and is obviously intended for show.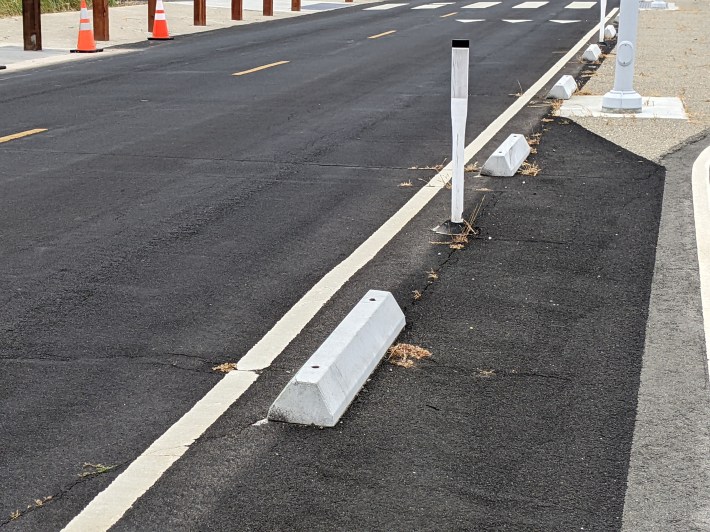 But Alameda Point's developers were following a master plan put together years ago by progressive planners with the city working in collaboration with advocates. "Planning and Public Works staff deserve credit, but perhaps more than anyone Bike Walk Alameda founder Lucy Gigli and former Council Member, then Planning Board member John Knox White probably deserve the most credit for the 2014 Master Infrastructure Plan for Alameda Point being truly ahead of its time," wrote city of Alameda's McGuire, in an email to Streetsblog. "We're just now bearing the fruit of that work."
Yes, it still has parking and roads, but thanks to that plan the housing is connected to the ferry terminal by first-class, sidewalk-level protected bike lanes. Where the bike lane comes down to street level, near the terminal itself, it still has real protection, as illustrated in the photos above.
It's not that motorists are ignored or neglected: far from it. In fact, there is ample parking and drop-off spots near the ferry pier. Between that and the ferry is the bike lane. A typical installation in Oakland or San Francisco would have plastic posts to deter, but not prevent, illegal parking on the bike space. But Alameda and the Point's developers decided enough with the plastic and put in real obstructions, made of concrete, steel, and even wood, as seen below: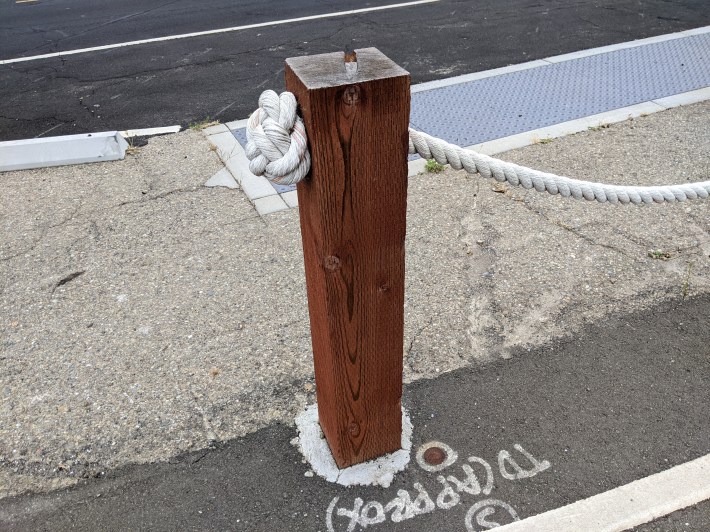 Soft-hit posts are used only to warn motorists of the presence of hard materials.
On Atlantic and many adjoining streets there are fully protected, sidewalk-level bike lanes (also known as cycle tracks) that are safe enough for a child to navigate.
Pedestrian space is clearly separated from bike space through color (see above and the lead image) and there's a gentle curb to deter pedestrians and cyclists from mixing. But the curb isn't so high that one couldn't ride over it in an emergency.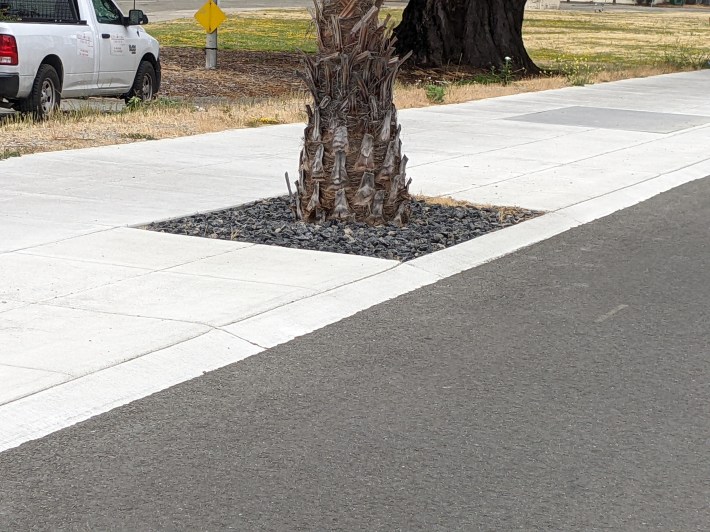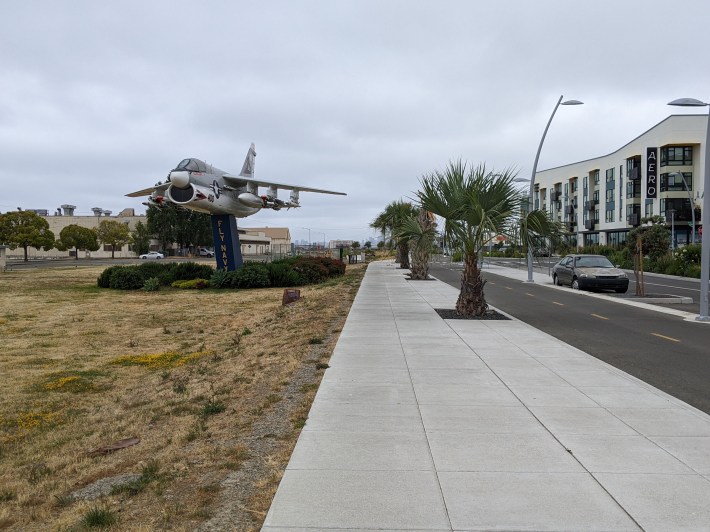 Cyclists even got good consideration in the design of intersections and crossings. A raised crossing and perhaps a refuge island would have been even better, but the solid green stripe seen below makes it pretty clear that cyclists have priority here.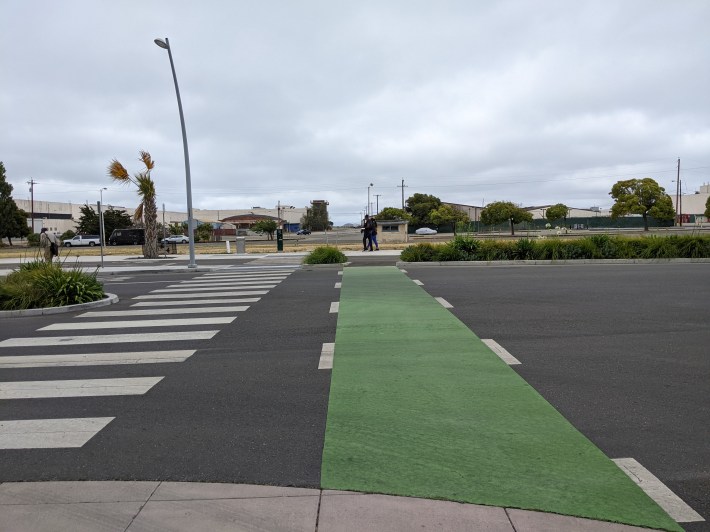 Now, a few small critiques. While sidewalk-level bike lanes are the rule at the Point, there were a couple of inexplicable exceptions, such as this short stretch of conventional bike lane on a side street: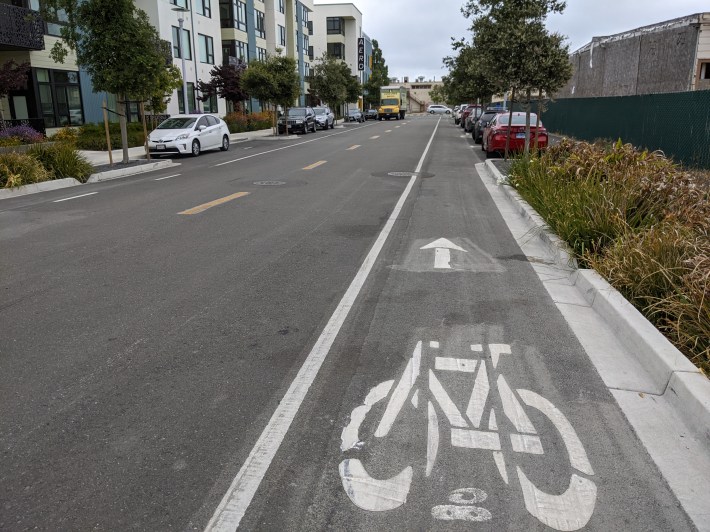 And the development landscaping team needs to rethink its choice of trees–or get better about keeping them under control. There were too many fronds at head level overhanging the bike lanes. They were easy enough to avoid during the day, but at night they could cause a crash.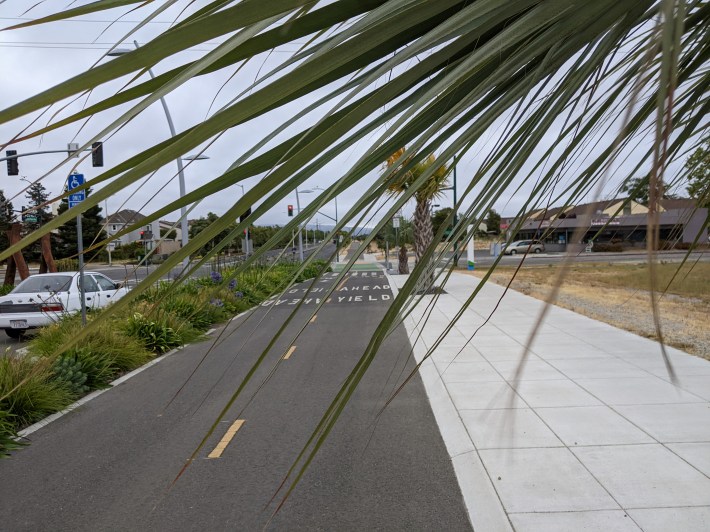 The other "flaw" with the project is that it lacks a connection to Oakland. But that's the fault of Caltrans and the Alameda County Transportation Commission, who think it's fine that there is no real bike access between Western Alameda and the rest of the region. Ultimately, such superb bike infrastructure should continue all the way to and across the estuary and into Oakland.
For now, though, it's nice to see at least one development in the Bay Area that is serious about making bikes a viable form of transportation for people of all ages and abilities.
For more, be sure to check out John King's review. But first, a few more pics: